HOSTGATOR VS SITEGROUND
Both Hostgator and Siteground offer a lot of common points in their web hosting plans. Hostgator is founded by Brent Oxley in October in 2002. They have headquarters in Austin, Houston and Texas. Endurance International Group acquired Hostgator on the 21st June 2012.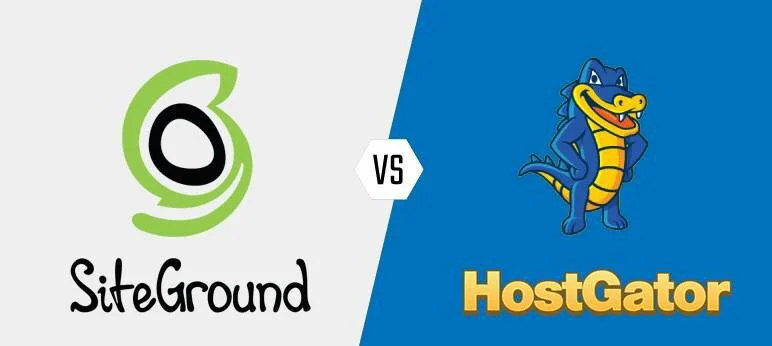 Up to date, Hostgator has more than 400,000 customers. On the other hand, Siteground was founded 1 year later than Hostgator in 2003. Siteground is run by more than 140 employees. Siteground is well known for their WordPress hosting services. They have 250,000 customers worldwide. The following is a comparison between Hostgator and Siteground.
Uptime
Both Hostgator and Siteground guarantee a reliable uptime of 99.9% for customers. Siteground server has a faster response time compared to Hostgator server. The average uptime of Siteground is about 99.77% while Hostgator has an uptime of 99.23%.
Plans and Pricing
Hostgator is specialized in offering unlimited hosting plans. There are 3 plans to choose from, with prices ranging fom $5.56 to $11.96 per month on a 3 years contract. It is also available as a monthly, 6 months, 1 year, and 2 year plans. One click installs and shared SSL certificate are included in all Hostgator plans. Hostgator supports all the major CMS including WordPress, Joomla, Drupal and Magento. The Baby and Business plans let you host multiple domains.
Siteground offers three types of hosting plans including StartUp, GrowBig and GoGeek. Although Siteground offers unlimited bandwidth, they do not offer unlimited storage. The basic plan, StartUp, which starts from $3.95 per month, offers 10GB webspace. If you want to host more than one site, you can choose either GrowBig or GoGeek plan. GrowBig offers 20GB webspace while GoGeek offers 30GB web space. The GoGeek plans are hosted on servers with lesser users for faster performance. GoGeek plan is a PCI compliant plan designed for medium e-commerce sites with a large product lines.
Control Panel
Both Siteground and Hostgator offer cPanel as control panels. Siteground offers a much better version of cPanel than Hostgator. The layout in Siteground is better because there is no advertisement. Siteground integrates its own 1H server software into the cPanel so that  you can view the statistics on the different aspects of the server performance. Hostgator's cPanel layout includes advertisement on top. Hostgator's cPanel includes sections they add themselves such as billing and domain management.
Data Centers
Hostgator offers one of the best data centers because of its partnership with SoftLayer. The majority of their servers are located in data centers in Provo, Utah, Houston and Texas. They also have another 23 data centers around the world. There is no option for customers to choose where they want their data centers to be based.
Siteground operates 3 data centers including Chicago, Amsterdam, London and Singapore. You can choose the one that is nearest to your location to increase the website loading speed. To ensure that the data of the clients' sites are safe, Siteground's data centers are monitored with top notch security for 24/7. Their data centers offer features such as biometrics, and video surveillance. They have their own generators and UPS backup system.
Customer Support
Hostgator is well known for their live chat support. Their live chat support lets you connect with a technician within a few minutes. Their customer representatives are ready to help you with any problem you have. Their telephone support representatives are US based and can speak English fluently. They also offer very good ticket support. Their ticket support is a bit slower compared to Siteground's ticket support.
Siteground provides customer support via live chat, telephone and ticket. Siteground's live chat support lets you get a response within a few seconds. The live chat system displays the photo of the live chat representative that is speaking to you. They offer decent telephone support. Their telephone support representatives are based in the US. Their customer support staff frequently answer tickets submitted by customers within a timeframe of 10 minutes.
Money Back Guarantee
Hostgator has a longer money back guarantee policy than Siteground. Hostgator promises to refund you without any question asked if you are not satisfied in 45 days. On the other hand, Siteground offers a 30 days money back guarantee.
Which one is better: Hostgator or Siteground?
In conclusion, you should choose Hostgator if you are looking for an affordable hosting plan. This is because Hostgator does not limit you on the storage space. Siteground is suitable for people who are looking for a hosting plan with a control panel that is easy to navigate.